By Cycles Devinci
Innovative Urban Mobility Solutions
Devinci's implication in urban mobility stands out on two main pillars. A strategic & manufacturing partner for PBSC Urban Solutions, which aims to offer self-service share bikes to some of the largest urbane centres in the world, and more recently, positioning itself as a Canadian manufacturer of electric cargo bikes used primarily for last-mile deliver solutions.
Since 2007, Devinci has been working tirelessly with Canadian companies to envision the mobility of tomorrow.
Through a trailblazing journey of innovations, we have left our mark by creating products that are not only robust and versatile, but also sustainable. The countless city bike systems crafted for Montreal, PBSC, and Lyft, spanning cities across the globe, speak volumes about our brand's achievements.
Fast forward almost 15 years, and a new trend of using bicycles for heavy-duty tasks like parcel delivery is gaining ground in North America. Enter Devinci, turning the tide by envisioning electric cargo bikes on a human scale, aimed at replacing numerous truck runs with eco-friendly, compact vehicles — all proudly made in Canada.
What is it?
Discover the Canadian-made Devinci Bikes electric-assist trike, intended for last-mile delivery and other short hauls.
It has the robust aluminum frame that Devinci bikes are known for. A global frame-manufacturing leader, Devinci has spent 35 years building some of the most durable mountain bike frames in the world, and 15 years providing tens of thousands of shared bikes to cities worldwide.
Powered by the high-torque Valeo Cyclee mid-drive system, our e-cargo trike offers throttle assist up to 5 km/h and pedal assist up to 32 km/h. On a single charge, it can travel up to 70 km, fully loaded. To make our trike even more versatile, we've equipped it with a reverse gear.
As durability, reliability, and ease of maintenance are essential in the bicycle delivery industry, we made sure to equip our e-cargo trike with the most durable parts available, while keeping the number of moving parts to a minimum.
In a nutshell
A powerful option for frequent hauls: up to 130 N.m of torque and a 32 km/h top speed.
Maximum autonomy: 1 or 2 very large batteries to travel up to 70 km at full capacity. Get the autonomy you need for your daily trips.
Modularity: Switch easily between different pallet-sized boxes for maximum efficiency.
Reliability: No external derailleur and minimal moving parts means almost no downtime and an excellent return on investment.
Load capacity of up to 350 kg
MADE IN CANADA
What's even more eco-friendly than a bicycle? A Canadian-made e-cargo trike with parts and materials sourced in North America, built by a company with 35 years of hands-on experience in manufacturing aluminum bikes.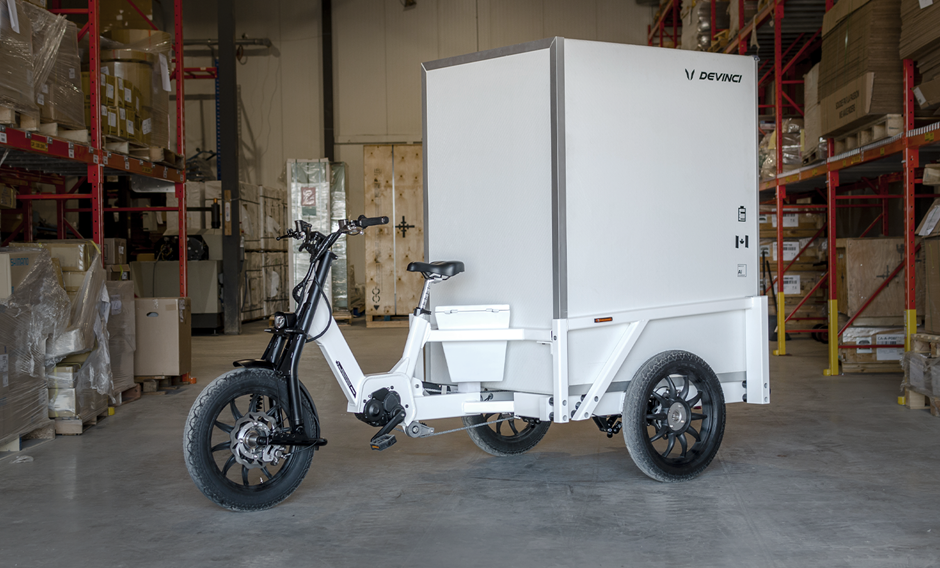 INTEGRATED DRIVE UNIT AND GEARBOX
We selected one of the most reliable, user-friendly and powerful mid-drive bike systems in the world. Experience it on the Devinci e‑cargo trike!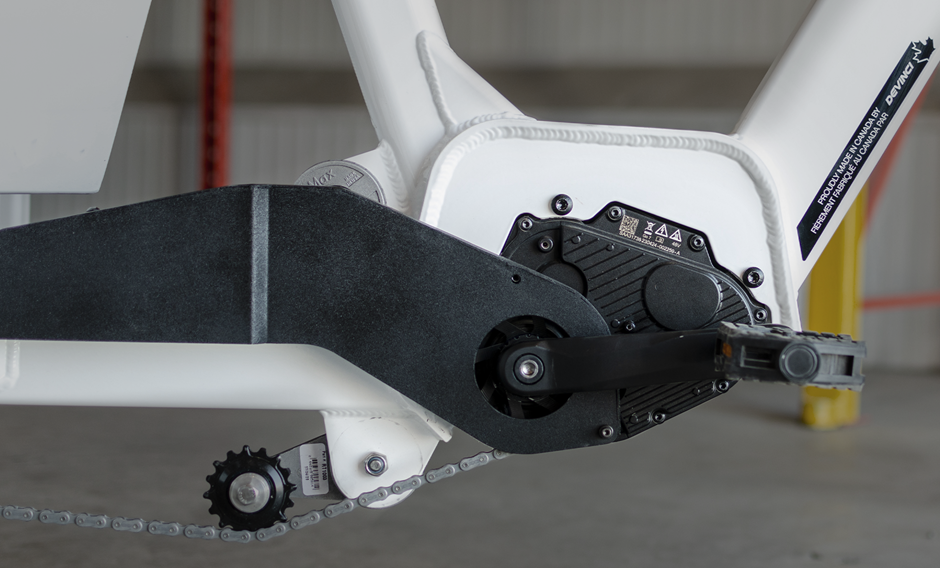 SAFETY FIRST
Safety features include daytime running lights, lever-activated brake lights, mirrors, a low centre of gravity, moto-style hydraulic brakes, and LTE and GPS connectivity. We considered every detail to keep couriers and riders safe all day long.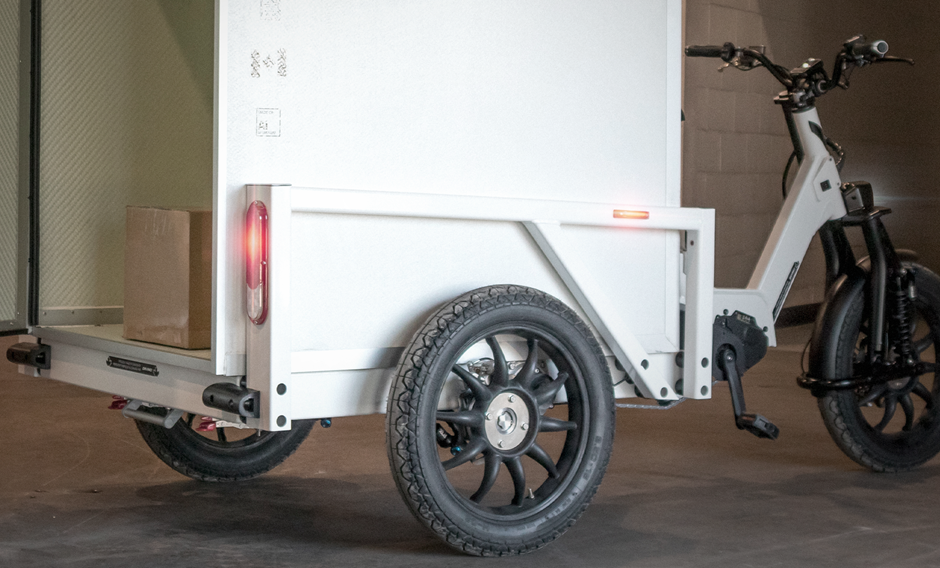 RELIABLE
Created to be as reliable as possible, our Devinci e-cargo trike has as few moving parts as possible. A mid-drive gearbox unit means no derailleurs, no chain skipping, less maintenance, and a longer lifespan.
As our products are made in Canada, replacement parts are easy to source. Plus, we build bikes that can endure the harshest weather conditions experienced in North American cities.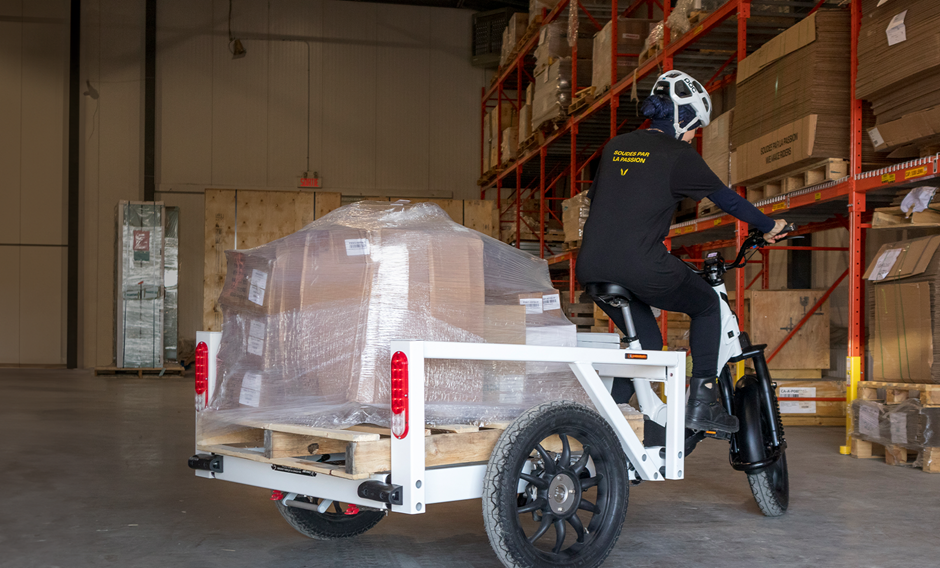 INTEGRATED IN YOUR LOGISTICS SYSTEM
The rear platform is compatible with pallets and other pallet-style boxes, making our e-cargo trikes easy to incorporate in your existing logistics system.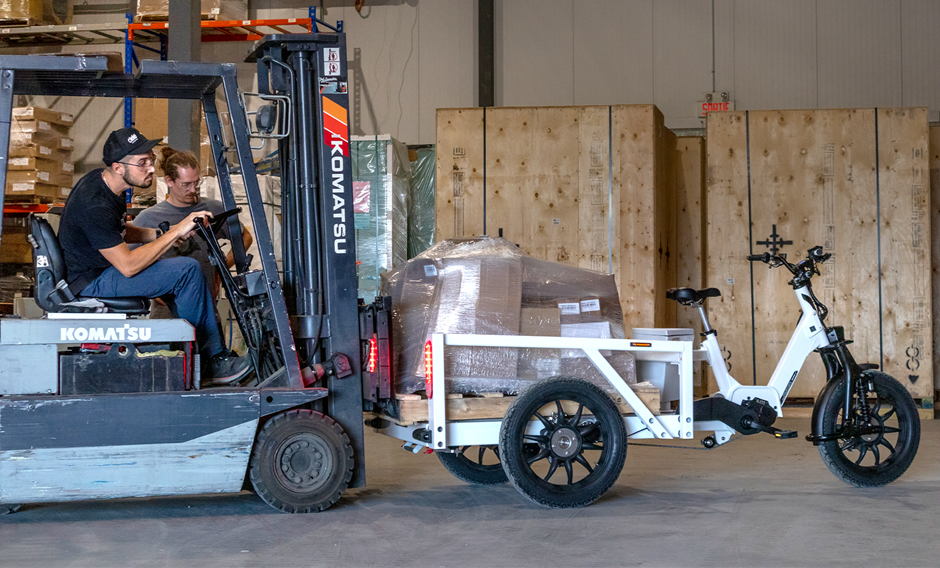 FULLY EQUIPPED
Your couriers and riders have everything they need at their fingertips. They can easily control their speed, shift gears, set the support and brake modes, and reach the parking brake levers, light switch, and flashers. There's even a glove box behind the saddle for storing personal items.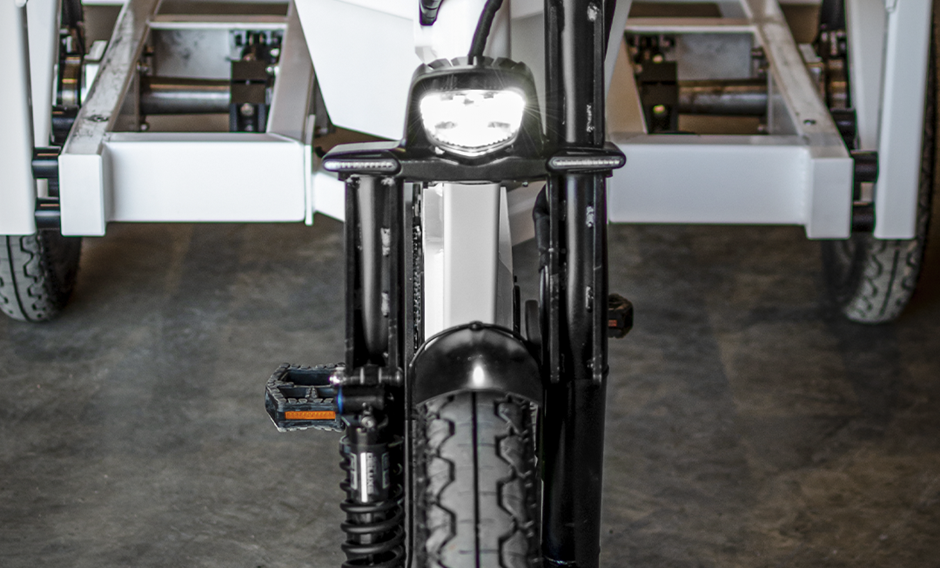 WIDE TIRES AND TOUGH WHEELS
Broken spokes are a thing of the past thanks to our plastic-polycarbonate wheels and extra wide mounted tires.
Need a tire replacement? Don't worry! Your courier will be back on the road in no time.
They can simply swap out the wheel and continue their trip: the front, left, and right wheels have identical tires and brake rotors. 
Once your courier is back on the road, a mechanic can fix the faulty wheel.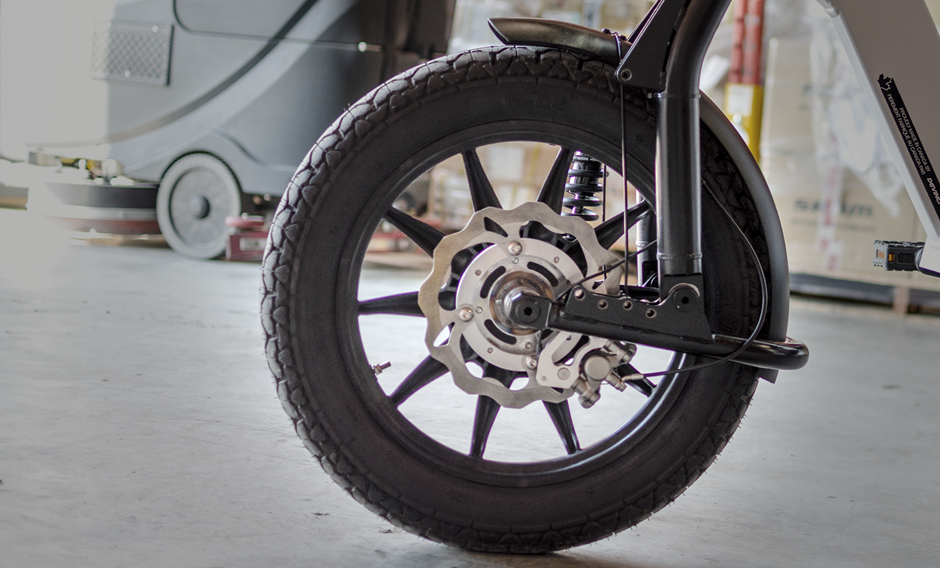 ONE SIZE FITS ALL
We designed our e‑cargo trike to be inclusive. Drawing from our hands-on experience designing shared bikes, as well as research in morphology, we've created an agile yet comfortable ride for all body types.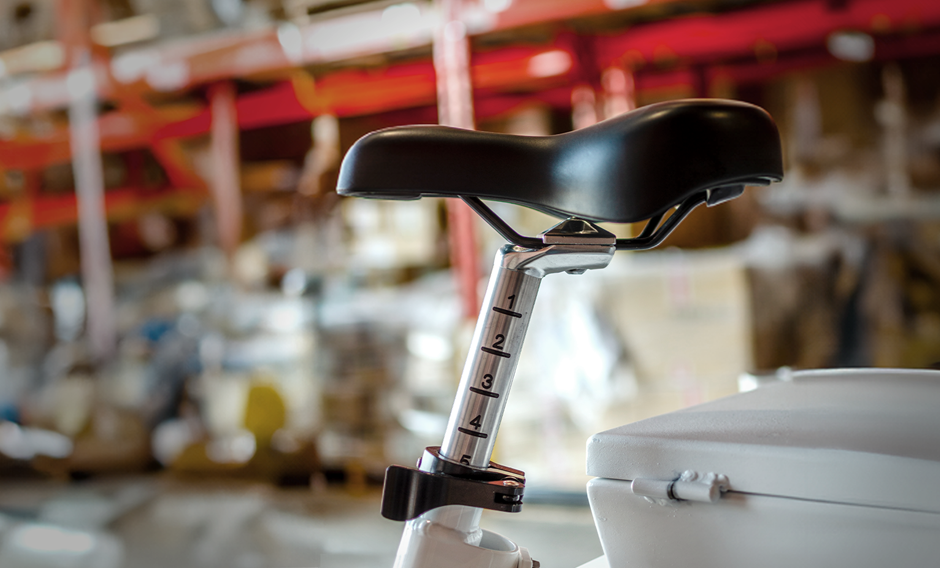 Changing the world, one city at a time
It all started in 2007, when Devinci entered a competition to create a city bike. By leveraging its mountain know-how to produce a durable and reliable urban bike that the contract for the city of Montreal was won by the Chicoutimi company. Following the 5000 first bikes produced for the metropolis, everything tumbled ... London, Boston and Minneapolis.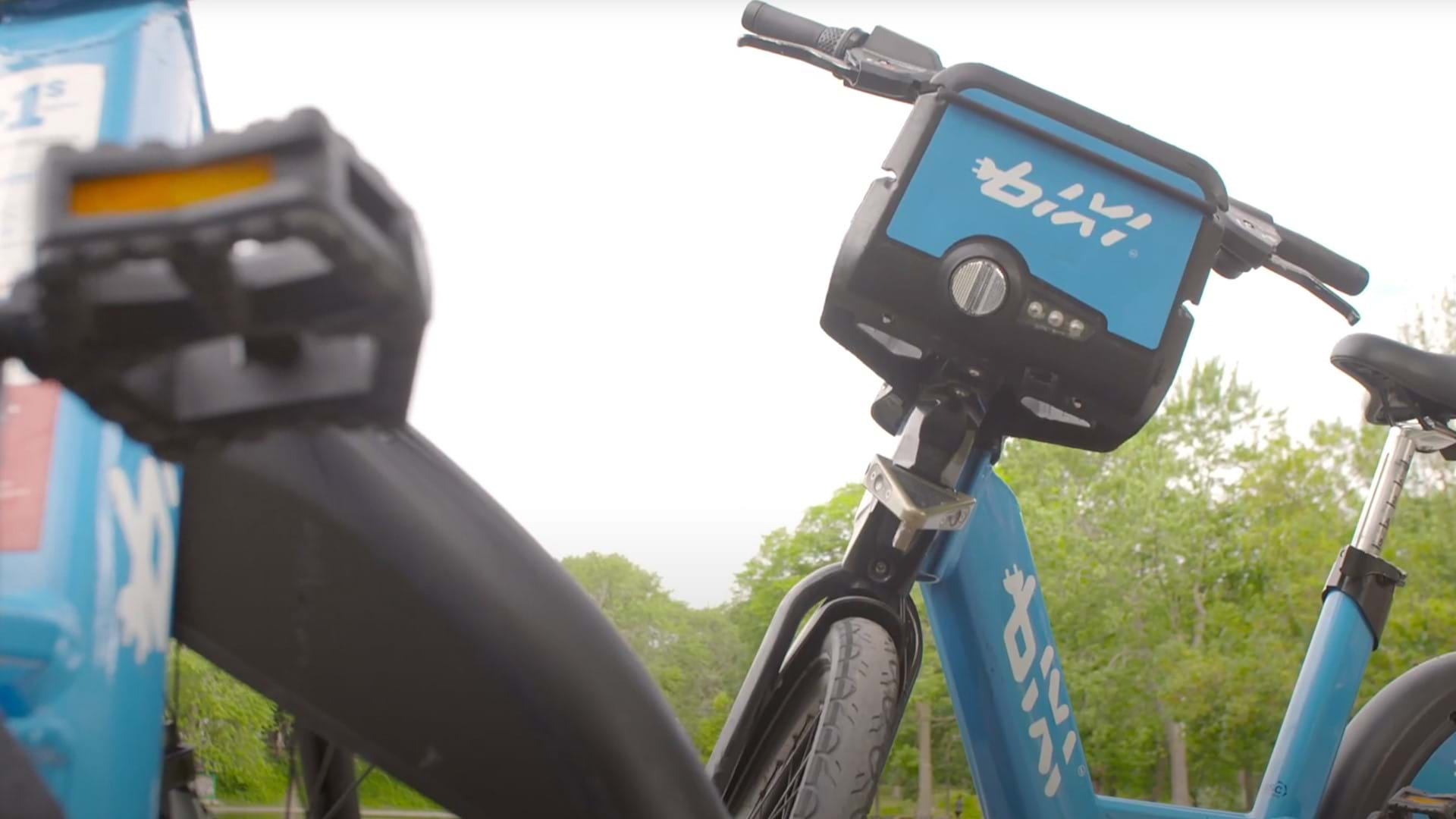 This video cannot be displayed because some cookies are blocked.
By clicking on the button below, you will access the video and you agree that third parties like Youtube and Vimeo may create cookies to collect information for targeting purposes.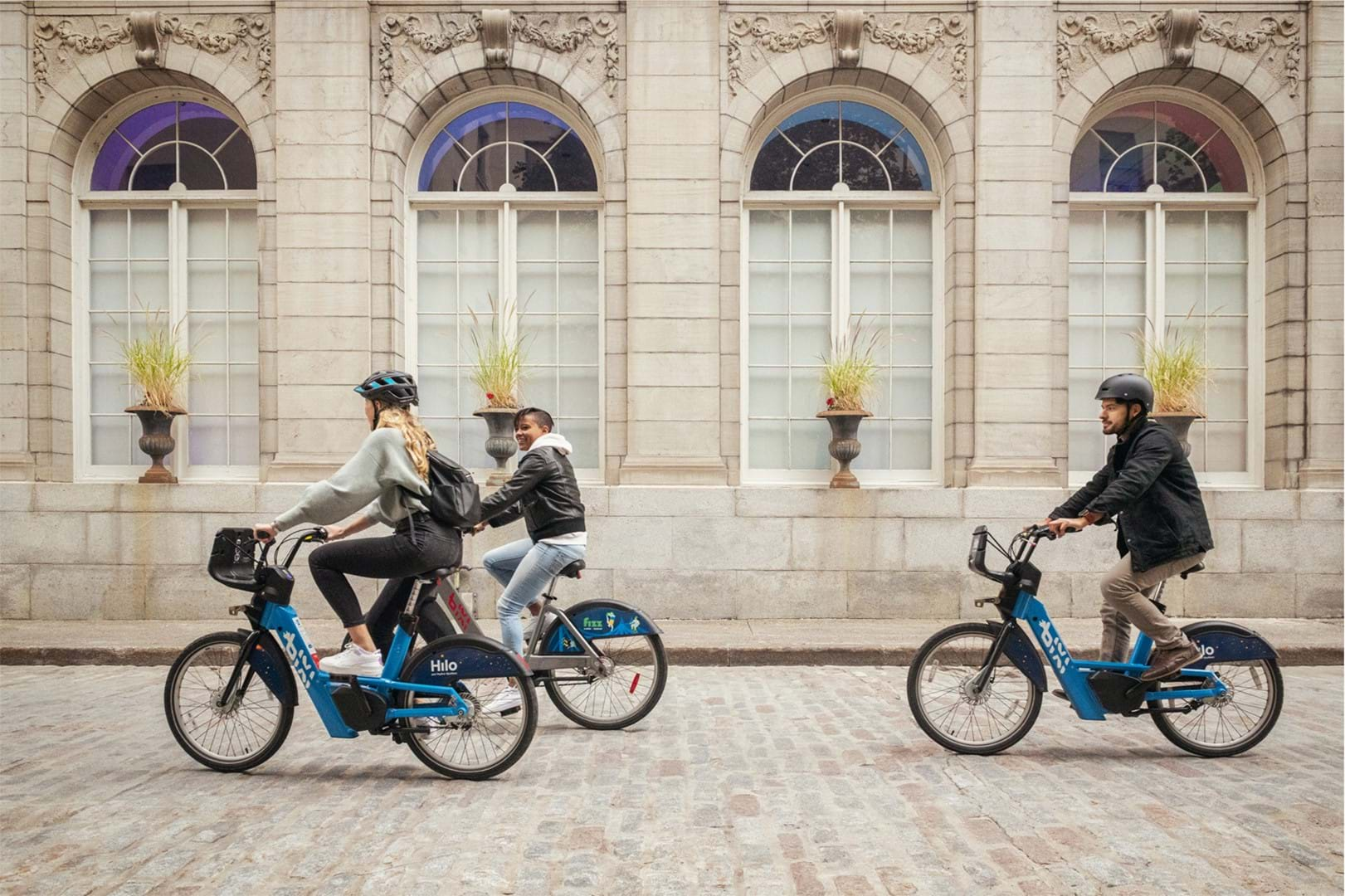 Today, more than 90,000 bikes roam the streets of the world's largest cities including: Montreal and Toronto, but also London, Barcelona, ​​Monaco, Dubai, Rio de Janeiro, Honolulu, Aspen and many more. This represents more than 400 million journeys made so far. Since the beginning of PBSC there has been no return of warranty, not a single one. The first bikes delivered to Montreal are still rolling. Over the years, the network has grown significantly and is now pursuing an electric shift with the addition of BOOST and E-FIT models to the current impressive fleet of ICONIC and FIT bikes that are already part of the urban landscape in multiple cities. 

The quality of our bikes made in Quebec is our pride, and this is how we work to change the world, one city at a time.